Today is all about our favorite swoony boys in fiction.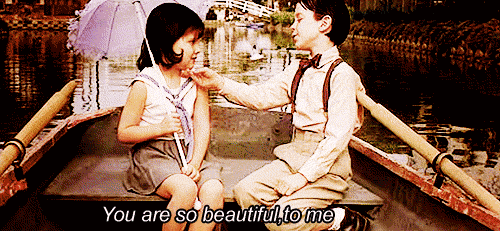 We all have a favorite (or two, or three…). You know the one, that boy that makes your heart beat faster, the one you catch yourself thinking about long after the book is closed… um you all do that, too, right?
:::awkward pause:::
He's the fictional boy who's stolen your heart, the one you compare ALL other male characters to, and when confronted with a love triangle you find yourself yelling NO NO NO FOR THE LOVE OF ALL THAT'S HOLY PICK HIM! PICK HIMMM!
Yeah, that one. So we set out to write a single post on our favorite male characters in fiction. And because reading is so much more fun when you can swoon with your friends, we asked a couple of them to give us their thoughts, too. The problem was, nobody could sum it up in a few lines.
So, rather than cut the swoon, we decided to make this a reoccurring post. Each week or so we'll showcase a new swoony boy – some will be from old favorites (well hello, Colonel Brandon), and some from books we've yet to discover. WIN/WIN.
Aaand here we go…
by Melissa:
When Christina asked me to share who my favorite swoony boy was, I was faced with a decision as monumental as what to name my first born. How could I possibly choose just one? There have been so many fictional boys that have captured my heart over the years so, in order to make a decision, I tried to remember the most swoony lines and go from there. There were many. At first, I thought Marcus Flutie from The Jessica Darling Series by Megan McCafferty was going to be it. I mean, he's the 'You. Yes, you.' guy! (The swooniest line in all YA novels, in my opinion.) However, when it came down to it, there was only one boy who captured my heart over and over again.
Adam Wilde :::sigh::: Adam Wilde from If I Stay/Where She Went by Gayle Forman.
Adam is a rock star, but without the rock star attitude. In fact, he's a one woman man and believes he's found his forever with his girlfriend, Mia. Tragically, in the first book 'If I Stay',  Mia is involved in a car accident that leaves her comatose and clinging to her life while her loved ones look on, begging her to keep fighting. Devastated, Adam whispers promises to an unconscious Mia in hopes of her pulling through. He's even willing to vow to do one of the most painful things imaginable, if she stays. [*spoiler alert*] "If you stay, I'll do whatever you want. I'll quit the band, go with you to New York. But if you need me to go away, I'll do that, too. I was talking to Liz and she said maybe coming back to your old life would be too painful, that maybe it'd be easier for you to erase us. And that would suck, but I'd do it. I can lose you like that if I don't lose you today. I'll let you go. If you stay." (If I Stay)
Can you even stand it? My heart broke into a million pieces reading his anguish.
In a low voice. Over and over he is saying: Please. Please. Please. Please. Please. Please Please. Please. Please. Finally he stops and looks at my face. "Please, Mia," he implores. "Don't make me write a song." (If I Stay)
[LO JUST GOT ALL TEARY (re)READING THIS. As you were.]
If I didn't swoon hard enough over him in one book, he came back for seconds in, 'Where She Went.' This book was told entirely in his point-of-view and when I tried to pull a few of my favorite quotes, I couldn't. It was impossible. Not only do I think this book is the best representation of a male YA point-of-view, but entire book is chock-full of swoony Adam. Since I had to give you something from 'Where She Went,' I decided on this:
"I look at her there in the shadows of the shut-down city, her hair falling onto her face, and I can see her trying to figure out if I've lost it. And I have to fight the urge to take her by the shoulders and slam her against a shuttered building until we feel the vibrations ringing through both of us. Because I suddenly want to hear her bones rattle. I want to feel the softness of her flesh give, to hear her gasp as my hip bone jams into her. I want to yank her head back until her neck is exposed. I want to rip my hands through her hair until her breath is labored. I want to make her cry and then lick up the tears. And then I want to take my mouth to hers, to devour her alive, to transmit all the things she can't understand." (Where She Went)
Now do you get why he's my favorite?
I thought so.  xoxo, Melly
~~~
HOW HAVE I NOT READ THIS?!! brb… ordering now. [Lo says: read. Read it now. Read it now and call me in the middle of the night to talk.]
You can follow Melly's antics over at the White Blank Page blog, or follow her on twitter. Which you should totally do because she is adorable.
So who is your favorite swoony boy? And what exactly is it that makes us fall in love with these amazing characters? Tell us in the comments and you could win your VERY OWN copies of IF I STAY & WHERE SHE WENT to read along with us.