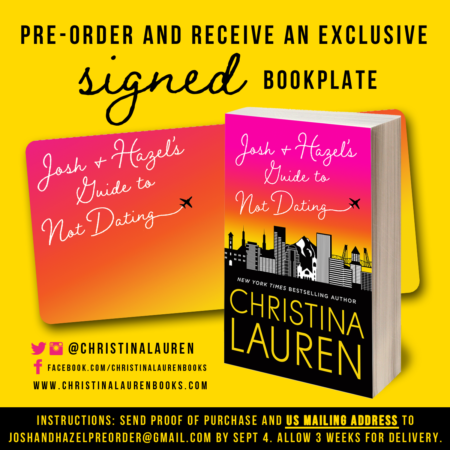 Josh and Hazel Signed Bookplates
Just friends. Just friends. Just friends.
If they repeat it enough, maybe it'll be true.
We may not be able to come to your house and sign all your books, but we can do the next best thing. Preorder your copy of Josh and Hazel's Guide to Not Dating and receive an exclusive signed bookplate!
Here's how:
Send proof of purchase (a screenshot or photo), and US mailing address to joshandhazelpreorder@gmail.com by Sept 4, and we'll lovingly sign and mail your exclusive bookplate. Please allow 3 weeks for delivery, and try not to laugh at Christina's signature. It looks like a ransom note.
WE LOVE YOU
Preorder were amazeballs books are sold
PS: Don't forget there are two days left to get the US Kindle version of Roomies for just 1.99, with the first chapter of Josh and Hazel inside. And if you missed that we turned in the first draft of the script, you can see it here! 
PSS: You can now also order a signed and personalized copy of any of our books (including Josh and Hazel) from The Ripped Bodice. Click here for more info.