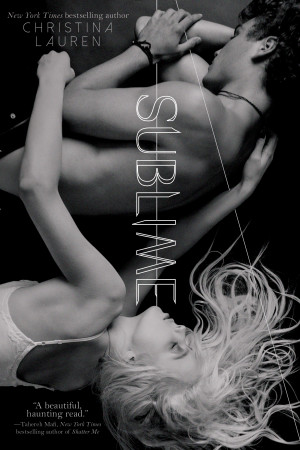 Sublime
Love is beautiful, dangerous, scary, sublime.
From the moment she sees Colin, Lucy knows she's meant for him. But their love is no ordinary love; Lucy is a ghost, and Colin can only physically be with her when he's standing on the brink of his own death.
Willing to give anything for their stolen moments together, Colin pushes his daredevil tendencies to the extreme time and again. But as he becomes obsessed with testing the limits between his world and that of the dead, Lucy begins to wonder if she's meant to be his guardian—or his destruction.
Early praise for SUBLIME: Waiflike ghost Lucy, the victim of a murder at the lake near Saint Osanna's boarding school, wakes in the woods and wanders toward the school, where she's immediately drawn to popular daredevil Colin. "I think I'm here for you," she says upon meeting him for the first time. As she lives a blurry sort of half-life as a nearly human ghost on campus, captivating Colin finds himself inexplicably pulled to her as well. While Lucy tries to recall her life before waking up at Saint Osanna, Colin discovers that he can feel physically closer to her with every death-defying stunt he performs. Is he willing to sacrifice his safety just to be with her? Alternating chapters from each of their perspectives, Lauren imbues each character with a distinct lyrical quality—Lucy's chapters are surreal and dreamlike, while Colin's point of view is harder and sharper. The poetic writing and shared viewpoints of these two damaged souls seamlessly flow together in this spooky, sexy romance, dripping with heady sweetness. – Stacy Comfort, ALA Booklist

Reviews
"Alternating chapters from each of their perspectives, Lauren imbues each character with a distinct lyrical quality—Lucy's chapters are surreal and dreamlike, while Colin's point of view is harder and sharper. The poetic writing and shared viewpoints of these two damaged souls seamlessly flow together in this spooky, sexy romance, dripping with heady sweetness."

– Stacey Comfort, Booklist/The American Library Association
"Bittersweet. Impossible love. Who doesn't love to read that? Christina and Lauren (the dynamic duo behind the adult contemporary hits, Beautiful Bastard and Sweet Filthy Boy) have hit their stride in creating memorable, true-to-life characters, but it's their world-building in this story that completely won me over. "

– Sophie Riggsby, Page Turners Blog
---