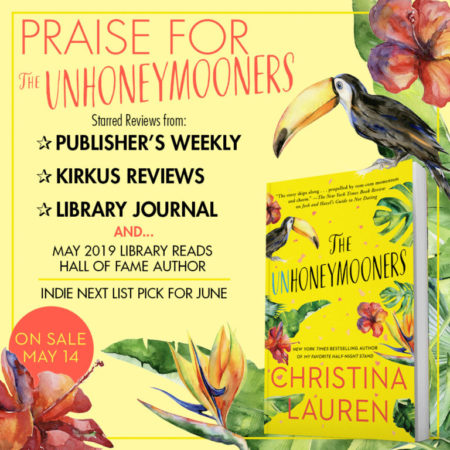 THE UNHONEYMOONERS! On sale NOW!!
When we started plotting The Unhoneymooners, we wanted a book that we'd take on vacation–or at least one that made us feel like that's where we were. We wanted two people who hated each other, who thought pretending to be married on a gorgeous Hawaiian island would be a piece of cake …until familiar faces meant they really had to pretend.
Enemies to lovers meets fake marriage meets drinks with umbrellas and a giant honeymoon suite with only one bed? Sign us up!
For two sworn enemies, anything can happen during the Hawaiian trip of a lifetime—even love.

Olive is always unlucky: in her career, in love, in…well, everything. Her identical twin sister Amelia, on the other hand, is probably the luckiest person in the world. Her meet-cute with her fiancé is something out of a romantic comedy (gag) and she's managed to finance her entire wedding by winning a series of Internet contests (double gag). Worst of all, she's forcing Olive to spend the day with her sworn enemy, Ethan, who just happens to be the best man.

Olive braces herself to get through 24 hours of wedding hell before she can return to her comfortable, unlucky life. But when the entire wedding party gets food poisoning from eating bad shellfish, the only people who aren't affected are Olive and Ethan. And now there's an all-expenses-paid honeymoon in Hawaii up for grabs.

Putting their mutual hatred aside for the sake of a free vacation, Olive and Ethan head for paradise, determined to avoid each other at all costs. But when Olive runs into her future boss, the little white lie she tells him is suddenly at risk to become a whole lot bigger. She and Ethan now have to pretend to be loving newlyweds, and her luck seems worse than ever. But the weird thing is that she doesn't mind playing pretend. In fact, she feels kind of…lucky.With Christina Lauren's "uniquely hilarious and touching voice" (Entertainment Weekly), The Unhoneymooners is a fun and charming romance that is perfect for anyone who has ever felt unlucky in love.

LOOK FOR IT WHEREVER AMAZEBALL BOOKS ARE SOLD. ON SALE NOW!!
And be sure to check out our events page to see if we'll be in a city near you! More to come!
*UPDATE* Amazon sold through their initial print preorder so it shows a delivery delay. That should be restocked ASAP, but you can find copies at B&N/your local indie bookseller. if you don't see it on shelves, ask someone!