Love and Other Words is here!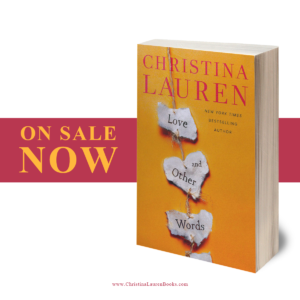 Happy book birthday!! It's finally here and we are so excited to share this story with you! Our TWENTIETH book together. HOW DID THAT HAPPEN WHEN WE  ALL STILL LOOK SO YOUNG AND WELL-RESTED?
We started writing Macy and Elliot years ago, and it got pushed aside in the craziness of our schedules. We were so happy to come back to them, to write the breathlessness of first love, the heartbreak of losing it, and all the swoons of second chances and a Happily Ever After.
We hope you love it as much as we do.
A few questions we keep getting:
But is it a romance? YES!
Is there a happily ever after? YES.
Is there kissing etc? HELL YES. We especially love the etc.
We're going on tour this week, so be sure to check out our events page to see if we'll be within hugging distance. WE LOVE YOU!
"Steamy moments, tender revelations… a confident adult love affair." ~ Kirkus starred review

"…Impossible to put down." ~RT Book Reviews, TOP PICK

 "From Lauren's wit to her love of wordplay and literature to swoony love scenes to heroines who learn to set aside their own self-doubts and undergo a crucial journey of self-love alongside their romantic ones, it's comforting to find oneself back in familiar territory."~ Entertainment Weekly
Purchase it today!