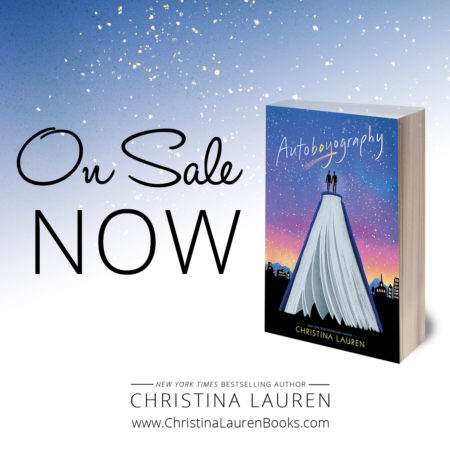 *shoves cake in each other's face*
After living in our hearts for YEARS, Autoboyography is finally here. It's an actual thing we can touch and hold and it's everything we hoped it would be: swoons and UST and longing glances and angst and frenzied kisses and making out under the stars and heartbreak and most of all–hope. We are so damn proud of this story we'd like to come to each of your houses and read it to you in person. Can you believe this is the 17th book we've published together? Like… how?? And we don't mean we as in Lo and Christina, but as in all of us. We did this together and we're forever grateful to have known so many of you from the start, and have met so many new friends along the way. THANK YOU. Let's write 17 more books together, ok?
Autoboyography
Three years ago, Tanner Scott's family relocated from California to Utah, a move that nudged the bisexual teen temporarily back into the closet. Now, with one semester of high school to go, and no obstacles between him and out-of-state college freedom, Tanner plans to coast through his remaining classes and clear out of Utah.
But when his best friend Autumn dares him to take Provo High's prestigious Seminar—where honor roll students diligently toil to draft a book in a semester—Tanner can't resist going against his better judgment and having a go, if only to prove to Autumn how silly the whole thing is. Writing a book in four months sounds simple. Four months is an eternity.
It turns out, Tanner is only partly right: four months is a long time. After all, it takes only one second for him to notice Sebastian Brother, the Mormon prodigy who sold his own Seminar novel the year before and who now mentors the class. And it takes less than a month for Tanner to fall completely in love with him.
"A hopeful and moving love story." -PUBLISHERS WEEKLY

"…Christina Lauren is able to depict the hope of young love and the uncertainty of falling in love within a community that is taught never to accept it." –Teen Vogue

"Lauren is back with a passionate and bittersweet tale of love in all of its wonderfully terrifying reality…" -Booklist

"Christina Lauren paint the couple's journey with heart-wrenching nuance—at times touchingly awkward, at times fierce and courageous. This book will strike a chord with anyone who's ever fallen in love or felt they didn't fit in." – iBooks
Purchase it today