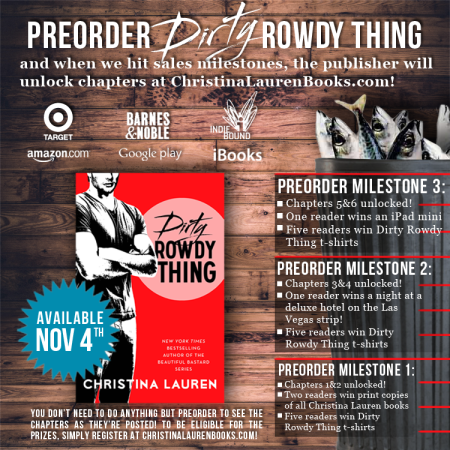 Dirty and Rowdy and EARLY!
Hi sweeties!
We are so giddy for you to get your gorgeous hands on DIRTY ROWDY THING that we've talked Gallery Books into doing something a little different with the preorder promo this time. See?
Yes, we still have the fun giveaway goodies (more on that below), but this time when we hit certain preorder milestones, Gallery will let us post FULL CHAPTERS right here on our site! We're so sneaky!
All you need to do is preorder, and once we hit those sales milestones the full chapters will go up and we'll yell about it all over social media and you can come back here and read! See? BOOM. EASY.
ALSO, because (1) we like you and (2) we like to give you things, we also have some goodies we are giving away to folks who register for our site during this preorder push.
During the first preorder milestone, we're giving away copies of all of our books, and Dirty Rowdy T-shirts!
For the second milestone, we're also giving away a stay at a luxury Las Vegas hotel, as well as books and t-shirts.
And finally, for the third milesone, we're giving away an iPad mini, books, shirts, wheeee!
The only thing you need to do for the prizes is register at our website, and don't worry-we won't stuff your inbox. It's just the big things we put here and we want you to be kept up-to-date on the fun.
OODLES OF SMOOCHES!