PARIS AND A SWEET FILTHY BOY GIVEAWAY
Hello Filthy Beautifuls!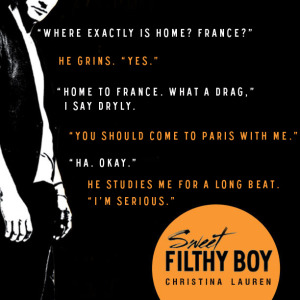 If you missed the memo, the release day for SWEET FILTHY BOY has been moved up to MAY 13th!! ANSEL IS COMING EARLY!! Oh . . . wait . . .
Well you know what we mean! So how should we celebrate?
How about with a giant giveaway of awesome? Sound good?
Yes? Yes.
What's up for grabs?
2 GRAND PRIZES!
Each will include:
1 French designer handbag selected and brought back from Paris by us! That's right! Lo is visiting Paris and would like to bring you back something pretty AND FRENCH!
Signed copies of our books complete with lovingly drawn stick figures and notes of varying inappropriateness.
But that's not all! Also inside will be all sorts of awesome little trinkets ALSO selected by Lo during her time in France.
BEAUTIFUL Swag and maybe even a few surprises
2 Runner up prizes!
Each will include:
A $50 gift card from Amazon/iTunes/Target/B&N/your favorite book retailer.
More French goodies!!
HOW TO ENTER: OPTIONS!
1. Preorder your copy of SWEET FILTHY BOY (links on this page) and send your proof of purchase to christinalaurengiveaway@gmail.com by May 12th.
2. Or, if you have an early review copy, leave a review on Goodreads, iTunes, or any site that allows early reviews and send us a screencap at christinalaurengiveaway@gmail.com!
3. Or, if you're waiting to get your copy on release day, tweet using the #sweetfilthyboy hashtag and let us know why you're so excited to read!
One grand prize winner will be announced on April 15th, and the rest of the winners on release day, May 13th on Facebook. Entries are good for both prize periods!
xoxo,