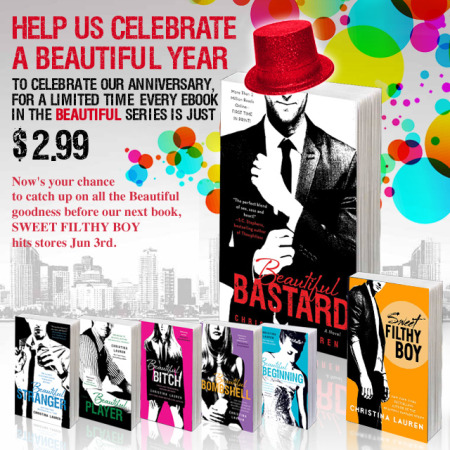 HAPPY BIRTHDAY, BEAUTIFULS!
Hi everyone!
BEAUTIFUL BASTARD was released into the wild on Tuesday, February 12, 2013 . . .which means it's already been a year!?! How insane is that? (Answer: VERY insane). We have had the most fun with you all in that time, and are so grateful that you've been along for the wild & beautiful ride . . .
So grateful, in fact, that Team Beautiful thought we should celebrate the anniversary with a SALE. Now is the perfect time to catch up on the Beautifuls–because our new Wild Seasons series begins on 6/3 with SWEET FILTHY BOY and, holy balls you guys, you won't want to miss the way these series tie together eventually! *sneaky shimmies*
For most of February, ALL OF THE BEAUTIFUL E-BOOKS ARE $2.99. Amazon, Apple, B&N–you name it!
What if you've already read the books? Well, first *high fives*, you're our favorite (yes, you), and second, it's the perfect time to share the love and gift the series to someone else! Smut: the gift that keeps on giving. Some suggestions:
The friend who keeps saying she doesn't have anything good to read
The guy you want to bang
The girl you want to bang
The guy and the girl you want to bang (this blog is a safe space)
The woman in your mom's group who you can just tell is a closet piglet (*piglet high fives*)
Your mom
Your grandma
Your valentine, duh!
Yourself if you don't have the e-book yet, silly! You can take it anywhere! (*more piglet high fives*)
So go grab yourself a BEAUTIFUL and preorder that SWEET FILTHY BOY while you're at it, and we can't wait to see you on one of our book events coming up soon!
Love,