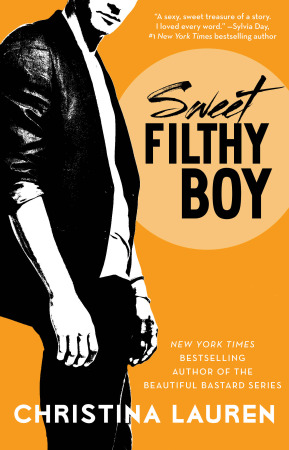 New Year! New Site! New Book!
Holla!! A new year means a new us and a new fictional boy to swoon over! Meet our Sweet Filthy Boy, available for preorder now, and out everywhere on June 3rd! Sweet Filthy Boy is the first book of the 4-book Wild Seasons series, and already we are loving these stories!
The folks over at PopSugar shared the cover with the world, and we could not be more thrilled with it!What do you guys think? Here's the little bit about Mia & Ansels' story to whet your appetite . . .
One-night stands are supposed to be with someone convenient, or wickedly persuasive, or regrettable. They aren't supposed to be with someone like him.But after a crazy Vegas weekend celebrating her college graduation—and terrified of the future path she knows is a cop-out—Mia Holland makes the wildest decision of her life: follow Ansel Guillaume—her sweet, filthy fling—to France for the summer and just . . . play. When feelings begin to develop behind the provocative roles they take on, and their temporary masquerade adventures begin to feel real, Mia will have to decide if she belongs in the life she left behind because it was all wrong, or in the strange new one that seems worlds away.
Some of you have asked whether this first book ties in with the BEAUTIFUL series and the answer is not . . . YET. This series, the WILD SEASONS series, will eventually tie in with the Beautifuls in a way we think you'll love. SWEET FILTHY BOY is a fun (and verrah saucy) introduction to a new cast of characters. And spoiler alert: our pre-readers love this one the most so far. (Shh! Don't tell Bennett.)We have so many exciting things coming in 2014–tours and book releases and promo videos and movie news oh my! We can't wait to share it all with you. For now, take a look around the site, check out our events page, noodle around the blog and book section, and see what's here. We're excited to use this space to share much more often with you guys!