NYT, thank you, Bennett and free stuff!!
HELLO BEAUTIFULS!
We wanted to take a moment to thank you for all the support this week, and for making it possible for Beautiful Player to hit #4 on the NYT's Bestsellers list!! LET US HUG YOU!! Ok, maybe not so hard. *helps you back up*
To show our appreciation we're . . . DOING ANOTHER GIVEAWAY! *CONFETTI CANNON*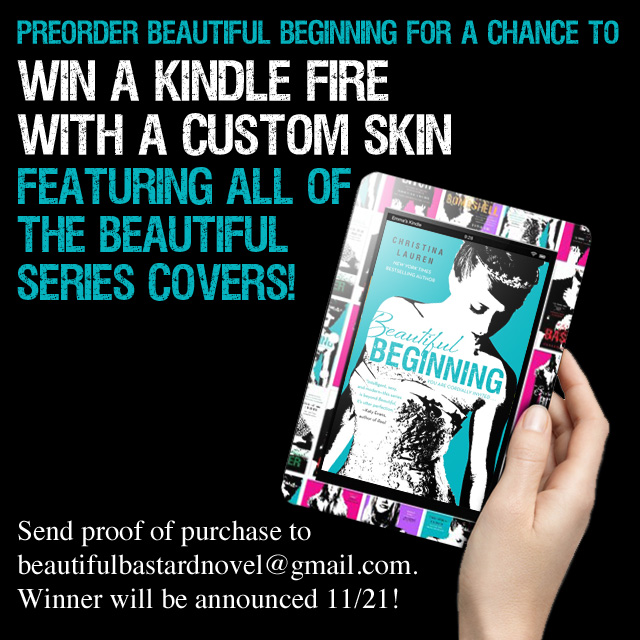 Beautiful Beginning is less than a week away! Pre-order before it's release date on Novmeber 19th and send your proof of purchase to beautifulbastardnovel@gmail.com (add Beginning Giveaway in the subject line, pretty please) and THAT'S IT! One lucky winner will win a Kindle Fire HD plus a custom Beautiful Series Skin. A second winner will receive an itunes gift card. EASY, RIGHT? You can pre-order at  Amazon, Barnes & Noble, Mysterious Galaxy, Simon & Schuster,  Books A Million, The Kings English, Target, Walmart, itunes, or anywhere amazeballs books are sold! And congrats to Corrine C, our winner of the Beautiful Player giveaway. Shimmies all around.
Also! Beautiful Bastard has been nominated as Goodreads Best Romance of the year! Vote for our Bennett and if he wins, we'll write a smutty little Hanna and Will outtake and post for all to read. Mmmmm, Will.
Thank you thank you thank you!! We have so much exciting stuff coming up *covers mouth* and can't wait to share it with you!